人民书画家张通云艺术作品鉴赏
人民书画网
2015-12-30 10:28:12 阅读:次
核心提示:
  张通云号野山,男,湖北省利川市人,1947年11月出生。中国国际艺术家协会理事,高级书画师;中国国际现代艺术研究中心高级研究员;中国书画家协会研究员;国际羲之书画院名誉院长;中国书法美术家美术创作中心终身荣誉教授。中国收藏学术研究会和世界文化艺术鉴定中心授予"当代中国书画收藏市场最具收藏价值艺术家";中企报盟信息科学研究院授予"全国百名优秀人民书画家";中国国际现代艺术研究中心授予"中华民族杰出艺术家";中国老科协中国科学院分院、中国当代文学研究会和中国专家学者与人文论坛授予改革开放"中国专家学者三十年贡献人物";中国文化艺术终身成就奖艺术类评定中心与中国文艺榜中国当代文艺人物评审委员会授予"中国文艺榜----百名中国当代文艺人物";中国国画院"文化大使"等荣誉称号。
  自幼酷爱艺术,中国书画作品或业绩已在俄罗斯、美国、法国、日本等10个国家, 中国26个省、市、自治区获奖、入展或入编670余次;书画作品在人民日报艺术家金杯奖、世界华人艺术精品大展,情系奥运中华书画艺术展世界行、今日中国书法美术展、2004年泰国亚洲艺术展、水墨中国艺术成就奖等140余次活动中获奖或入展,其中,特别金奖6次,金奖含一等奖48次,银奖15次;作品有400余件次参加《中国改革报》、《国际商报》、《中国文化报》、《世界知识画报》等艺术活动获得成功。作品在《中国名家翰墨作品博览》、《中华翰墨艺术宝库》、《今日中国书法美术精品集》、《中国历代书画名家精品选集》、《中国艺术》、《世界华人书画家名作大典》等199部典籍中入编;因在书画艺术领域的突出成就,以作品、肖像等为素材的相关资料,正式被"纪念中国人民抗日战争暨世界反法西斯战争胜利70周年"主题《中国邮册》收录。经国家邮政部门审批,准予出版素有"国家名片"之誉的邮票;作品入选《人民日报》(海外版)"中华艺苑名家"、《文艺报》"艺术人生"、《经济日报》"中国书画家"、《中国文化报文化生活周刊》"中国书画名家"专栏、《中国新闻、中国创新报道》专刊"艺苑名家"等多家报纸和杂志。作品被中国文化艺术终身成就奖艺术类评定中心与中国文艺榜中国当代文艺人物评审委员会认定为"一级珍贵艺术品"。
  艺术业绩在《世界名人录》、《中国社会主义成就大典》(人物卷)、《中国纪录年鉴------共和国建设者成就纪实》、《光明日报》出版的《中国世纪英才荟萃》、《世界人物辞海》、中国中共党史人物研究会等单位编的《共和国功勋人物志》等265部典籍中入录,业绩受到多方高度肯定,获成就奖45次。艺术论文入编中共中央党史出版社的《学习和实践三个代表优秀文集》等173部大型典籍,其中获特等奖15次,一等奖含金奖42次,二等奖5次。
  Zhang Tongyun art resume
  Zhang Tongyun wild, male, Hubei city of Lichuan Province, was born in November 1947. China International Artists Association, senior artist; senior researcher of the China International Institute of modern art; researcher of Chinese painting and Calligraphy Association; Honorary President of the international Xizhi calligraphy and painting; Chinese calligraphy artist artistic creation center lifelong honorary professor. Chinese of academic research and the world of Arts and Culture Identification Center awarded the "contemporary painting collection market China most artists" in the collection value; Newspaper Alliance Information Science Research Institute awarded the "national 100 excellent people's calligraphy and painting"; China International Modern Art Research Center awarded the "Chinese outstanding artists"; China old cast Chinese academy branch Chinese, contemporary literature research and Chinese experts and humanities forum awarded "reform and opening up China experts for thirty years; Chinese contribution figures" culture and Art Award for lifetime achievement Arts in evaluation of heart and Chinese literature list China contemporary literary figures Review Committee awarded the "Chinese list - 100 China contemporary literary literary characters"; Chinese painting academy "Cultural Ambassador" and other honorary titles.
  His childhood love of art, calligraphy and painting works China or performance in 10 countries, Russia, France, Japan and other USA, Chinese 26 provinces, city, autonomous region, or for winning into the exhibition of more than 670 times; in the people's daily works of painting and calligraphy artist Gold Award, the world Chinese fine arts exhibition, the Olympic Games Chinese calligraphy art exhibition today, the world bank China calligraphy art exhibition, 2004 Thailand Asian art exhibition, ink China arts achievement award more than 140 event winners or into the exhibition, among them, 6 special award, first prize of gold containing 48 silver, 15 times more than 400 times; works in "reform", "Chinese International Business Daily", "China cultural newspaper", "world" and other knowledge pictorial art activities successfully. Works in the famous Chinese calligraphy works exhibition "," Chinese calligraphy art treasure house "," today, the Chinese calligraphy art boutique "," ancient Chinese painting and calligraphy masters boutique anthology "," Chinese art ", the world of Chinese painting and calligraphy home famous ceremony" 199 classics believing; for outstanding achievement in the field of the art of calligraphy and painting, with his works, portrait as material, was officially "memorial the 70th anniversary of the victory of the Chinese people's Anti Japanese War and the world anti fascist war" theme "China" the album included. Approved by the national postal sector, granted publication known as the reputation of the "national card stamps; selected works of" people's Daily "overseas edition" Chinese Ivan famous "," literary newspaper "" art of life "," Economic Daily "," Chinese painting and calligraphy "," China cultural message Life Weekly "," Chinese painting and calligraphy "column, the China news, China Innovation report monograph" Ivan famous "a number of newspapers and magazines. Works by the Chinese culture and Art Award for Life Achievement Award for art class evaluation center and the Chinese contemporary literary and artistic figure appraisal committee identified as a precious art".
  Art performance in the "celebrity world record", "China socialism achievement ceremony" (Figure), the record in China Yearbook -- Republic builders achievement documentary "," Guangming Daily "published" China century Yingcai fair ", the world citing figures", Chinese Communist Party history character studies and other units, the Republic Gongxun figures such as the annals of 265 books into the record, the performance is multi height affirmation, won the achievement award 45 times. The art of believing the CPC Central Party History Publishing House of the learning and practice of the "Three Represents" outstanding anthology "173 large books, which won the grand prize of 15 times, first prize with gold 42 times, second-class award 5 times.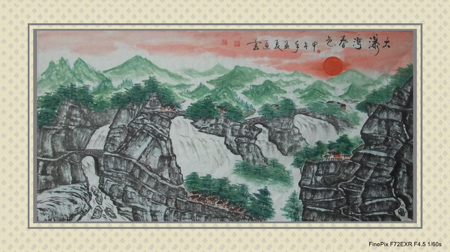 085大瀑湾春色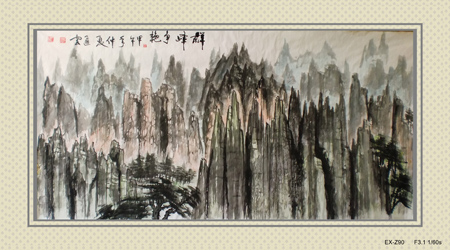 089群峰争艳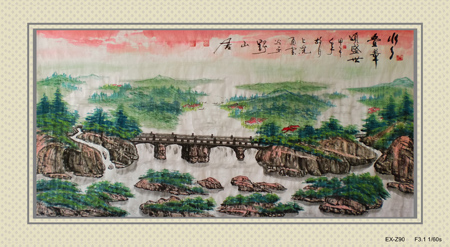 090水乡叠翠颂盛世
099大河上下春意浓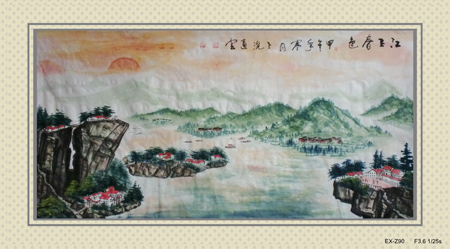 100江上春色
120乡情
121千山吐艳
作品润格证书